Company profile
Presenting the lifestyle which the generations are looking for with our own ability of planning and development.
Green Life, the original brand of Toyama group in charge of product planning, developing and sales, works on the products related to gardening, outdoors, leisure, DIY and ecology, creating numbers of products with originality and clever ideas for the richer and better lives.
Established
1977/9/1
Capital
12,000,000 YEN
Representative
Chief executive officer YUICHI TOYAMA
Employee
60
Business category
The planning, developing and sales of exterior, gardening, DIY products (in Green Life brand)
HEADQUARTER
3-7-58,MINAMIYOKKA-MACHI,SANJO-CITY,NIIGATA PREF,955-0852,JAPAN
PHONE +81-256-36-4001
FAX +81-256-36-4050
E-mail:niigata@greenlife-web.co.jp
DISTRIBUTION CENTER
8374,OBIORI,SANJO-CITY,NIIGATA PREF,959-1192,JAPAN
PHONE +81-256-45-5581
FAX +81-256-45-3844
TOKYO BRANCH
6F YAESUMITSUI BUILDING,2-7-2,YAESU,CHUOU WARD,TOKYO,104-0028,JAPAN
PHONE +81-332-70-4601
FAX +81-332-70-4603
KANSAI BRANCH
5J NIII DAI JUU BUILD,3-5-2,NISHINAKAJIMA,YODOGAWA WARD,OOSAKA-CITY,OOSAKA PREF,532-0011,JAPAN
PHONE +81-648-06-3375
FAX +81-648-06-1065
KYUSYU BRANCH
105 SUNSHINE-MEIHAMA,5-22-34,MEINOHAMA,WEST WARD,FUKUOKA-CITY,FUKUOKA PREF,819-0002,JAPAN
PHONE +81-928-94-4051
FAX +81-928-94-4052
The introduction of Toyama group
 ・TOYAMA SANGYO for the wholesale business of living and liesure products.
・GREEN LIFE CO., LTD. for the planning and sales of living and leisure products in original brand "Green Life".
・TOYAMA MFG for planning, developing and manufacturing the products in brand "Green life" and the parts of home appliance and electric products with its own technic and consistency.
Based on above three main businesses, we expanded our business territories and established
・METS CO., LTD. for exterior house washing and home facility installation service.
・TOYAMA CORPORTATION CO., LTD. for insurance business.
・GUANGDONG HAISHAN CO., LTD. in China for the wholesale and trading business of home products.
With the resources above we have, we turned into a business group controlling production and sales with global strategy.
■The introduction of Toyama group
※You may move to the website of the companies under Toyama Group through the chart below.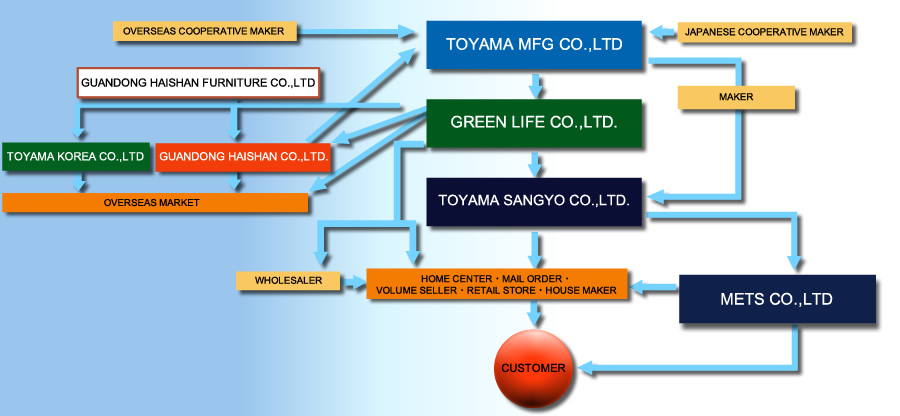 The effort on ISO
■ ISO 9001 quality management system
Quality Policy
Based on our business creed: romance & passion, we believe
"we are working for touching customers' hearts"
.
Qualtiy targets
・Escape of defect 「0」 ・Occupational hazard「0」 ・Manufacture capacity 10% up
To reach the quality policy and targets,
1
Keep improving the management system to match the targets.
2
The managers and team leaders should set up the target (Policy proposal or annual target) for departments based on the policy from president and general manager.
3
To maintain the appropriateness, the estimation made by insider and outsider should be continued and adjust the system according to the management review.
TOYAMA SANGYO CO., LTD.
TOYAMA MFG LTD.
set up  July 21st, 1999
GREEN LIFE CO., LTD.
METS CO., LTD.
altered  June 21st, 2007
Chief executive officer YUICHI TOYAMA
■Environment management, system IS0 14001
Environment Policy
We pursue being a corporation which protects both the environment of earth and the health of human being.
To reach the environment target,
a
We put our efforts on how to reduce the affect to environment when we design, manufacture and sale our products, enhancing the environmental protection
b
We set up and keep improving the environment management system, preventing from pollution.
c
We obey the laws, regulations, agreements and rules in industy related to environment. Moreover, we set up our own regulations within technic and economy areas as strict as possible, trying to protect the environment forward.
d
Regarding the activities we proceed, we set up and pursue the environment management purpose, target and program. We also adjust it appropriately regularly.
e
We pursue documenting the policy and making the policy well known by all staff of us.
| | | |
| --- | --- | --- |
| TOYAMA SANGYO CO., LTD. | TOYAMA MFG LTD. | July 7th, 2003 |
| GREEN LIFE CO., LTD. | METS CO., LTD. | Chief executive officer YUICHI TOYAMA |